In your dashboard you might note that all fundraisers have a mobile donation form link.
Except for email E#17 (info below) these forms are not publicly communicated to the fundraisers, nor visible to them.
The special thing about these forms is that they only have mobile payments as an option (so only MobilePay(DK), Swish(SE) and Vipps(NO)).
They are furthermore super short, only asking for a mobile phone and the name of the donor. They are made for high conversion rates rather than gathering a lot of information on donors.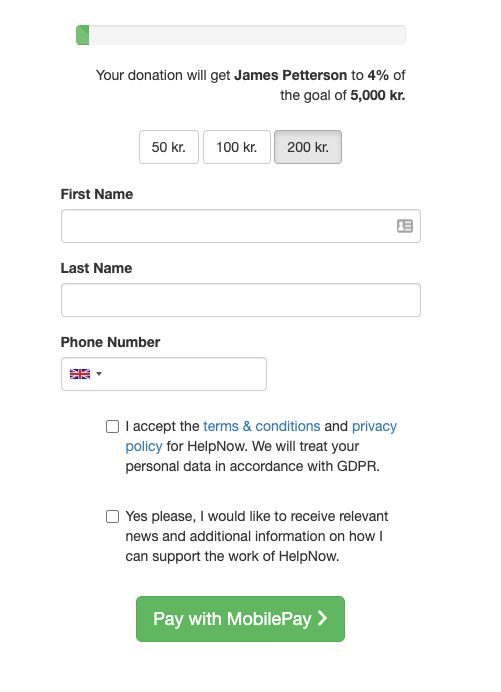 Users cases
This mobile donation form is used in an email for sports fundraisers, sent the day before their end date (E#17 in the email documentation), but are also included in your fundraiser export files.
We don't push this form in any other communication (at the moment), as we will let you decide when you value donations over the quality of contact information.
Another popular user case for these are to e.g. send them in a SMS to all participants on the race day of an event. This can be the encouragement that will get participants to try go the last mile and maybe get donations from those who already have donated once.
They have also with success been used by influencers in fundraising, where they help increase conversion when donors are less attached to the creator.