This feature is only available on standard and premium plans.
This is our 'enhanced' in-memory fundraiser option. They are designed to give a better experience for the fundraiser and donors.
The three main differences from standard in-memory fundraisers are:
- No end date, instead we use the funeral date together with the birthdate and death date of the person the page is created in memory of.
- No goal or gamification.
- A much more relevant and subtle email flow.
The tribute fund
When creating a tribute fund, we ask for a bit of information about the person being honoured. This is the funeral date, the death date and the birthdate. We will show the death and birth date on the fundraiser page, whereas the funeral date is only used for sending relevant emails.
Tribute funds always have the name of the person being honoured as the title.
As we want the tribute fund to feature an image of the person it is created in memory of, we don't use the photo from the creator's Facebook/Google profile if they log through that. The page features both the name of the person who passed away and the person who created the page.
We don't ask the creator to set a goal, as we don't find that fitting.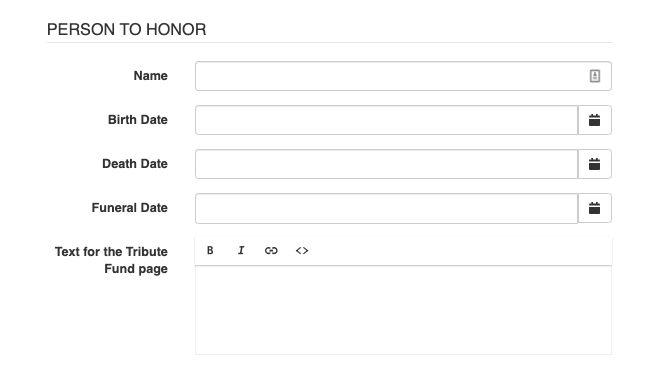 Hiding the donation amounts
It is possible to let donors hide their donation amounts on the fundraiser pages. This is currently a feature that needs to be enabled by contacting support. If this is enabled, then donors can choose to hide the donation amount on the donation form.
It is important that this doesn't guarantee the donors privacy around how much they donated. There can easily be cases where only one donor has chosen to hide the donation amount - in this case, it will be possible to calculate how much they'd donated by subtracting all other donation amounts from the total collected.
The email flow
Tribute funds have a completely different email flow than the standard version. There are no in-activity emails asking the fundraiser to share the fundraiser on Facebook. The tone of the emails are helpful and informative. The advice on how to share the tribute fund is different based on if it is created before or after the funeral.
The thank-you email is sent either when the fundraiser closes the tribute fund, 4 days after the funeral, or 30 days after it has been created. If the fundraiser keeps the fund open, an email will go out every year on the birthdate of the person being honoured and on the year date for the funeral.
Overview of emails
| | | | |
| --- | --- | --- | --- |
| ID | Email | Trigger | Delay |
| TF#1 | Welcome, intro | Fundraiser Created | Instant |
| TF#2.1 | Fundraising advice (fundraiser created after funeral) | Fundraiser Created | 5 minutes |
| TF#2.2 | Fundraising advice (fundraiser before after funeral) | Fundraiser Created | 5 minutes |
| TF#3 | Need any help? email | Fundraiser Created | 7 days |
| TF#4 | Thank you + results | Fundraiser Created before funeral | 4 days after funeral |
| TF#5 | Thank you + results | Fundraiser Created after funeral | 30 days after creation |
| TF#6 | Thank you + results | Fundraiser finished | Instant |
| TF#7 (optional) | An update to your page? | Year date of the funeral | Instant |
| TF#8 (optional) | An update to your page? | Birthdate of decesaed | Instant |