Billing is either done by invoice or payment card. Adding a payment ensures that your invoice is paid on time with zero hassle.
No matter what, an invoice is issued and sent to the email you specify in your dashboard.
How do I add a credit card?
Go to your dashboard and find the submenu 'Billing'.
Press 'Add credit card'.
Fill in the form and press 'Add Credit Card'.
All major credit and debit cards are accepted.
We won't charge your card when you add it, only validate it.
Downloading old invoices
You can find your billing history and download old invoices as PDF by going to billing history. To download it as a PDF simply click the little black adobe icon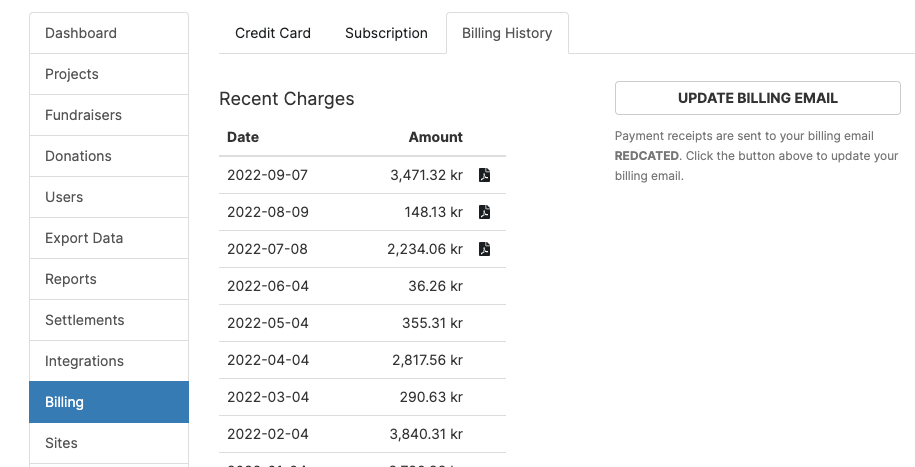 Understanding your invoice
All usage-based fees are charged backwards including any subscription payment for Payment Services. All subscription payments for BetterNow are charged in advance.
Your invoice has several possible invoice lines (depending on how many services you use and your payment setup):
BetterNow P2P Fees (X% of 0,000,000.00 ): These are the percentage fees charged based on the total P2P fundraiser amount.
BetterNow In Memory Fees (X% of 0,000,000.00): These are the percentage fees charged based on the total In-memory donations amount.
Payment Service Subscription: Monthly subscription for payment processing through BetterNow.
Payment Transaction Fees: Transaction fees (calculated from the number of payments) for payment processing through BetterNow.
MobilePay Subscription: Additional monthly subscription if you have added MobilePay to your plan.
MobilePay Transactions: The additional 1 kr. per transaction for MobielPay transactions.
Yearly Payment
The yearly payment for your monthly subscription can be paid yearly instead of monthly. This provides more liquidity which we can then invest in new features.
To encourage this we give a 10% discount on a standard subscription if paid yearly.
Premium subscriptions are always paid yearly.

Payment acquiring fees
If you process payment through BetterNow then the payment acquiring fees are subtracted before the funds are paid out, these are paid directly to BetterNow's standard payment acquire. These fees will be detailed in the settlement reports you can download from your dashboard.