You can enable multi-currency from your dashboard under
Administration --> Account --> Bank and Currency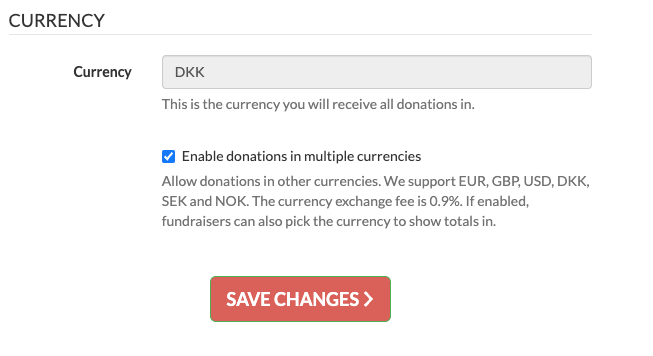 If enabled, this will allow donors to choose the currency they want to donate in. They can choose between USD, EUR, GBP, SEK, NOK and DKK. You will still receive all donations in the currency you have chosen (most often your locale currency), and all amounts will appear in your reports with that currency. Clearhaus charge a 0.9% currency conversion fee.

In addition, you will be able to accept some local payment methods like Vipps for NOK and MobilePay for EUR and DKK. Contact support to enable this.
Note: If you use our OnlineFundraising integration, then you need to contact OnlineFundraising to confirm that your payment agreement through them supports multi-currency. If not, make sure to set this up with them first.
Note: This feature is not compatible with specific donation form configurations. If you e.g. require the donor to fill in locale social security numbers, this feature will be of limited use, as no foreigners can donate anyway.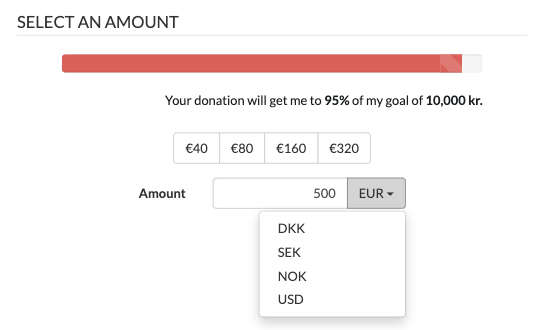 Donations will show in the activity stream of the fundraising page in the currency they are made.
Another part of this is that fundraisers can set the currency for their goal and statistics themself. This allows, e.g. a live streamer to show the total amount fundraised in USD or a pan-European company to show the total amount in EUR while having its employees donate in locale currencies.
Fundraisers can edit this after they have created their fundraising page.