To create a new project, you have to be registered as an administrator for your charity. Log in with your administrator login, and go to your dashboard.
In the dashboard, click on "Projects" in the sidebar on the left. Then click on "Create a new project" as shown below.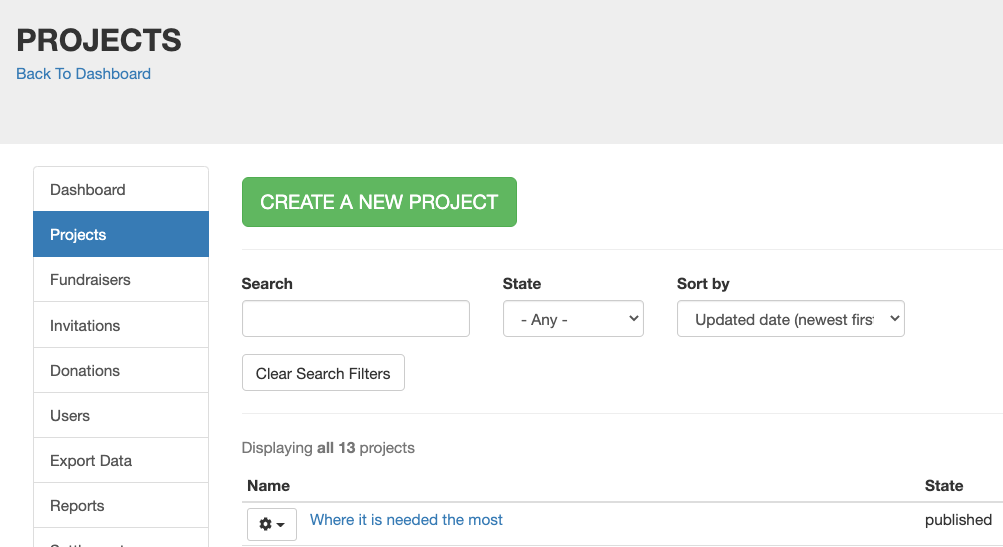 A project page has to have the following information-
Title
Project description
Path (URL for the project page)
Optional, but highly recommended-
Header Background Image. This is the large banner image on top of the page. See recommended image ratios here. If an image is not added, the default for your organisation will be used.
Project card image. This is the image shown on index pages for the project.
Video. This is an optional video, and will be shown beneath the description.
You can also set a default description, goal, and end date for any fundraiser created for a project. Read more about project defaults here.
Lastly, you should decide-
The initial state of the project. You can either choose to publish, save as a draft, or create a hidden project.
What site(s) you want it to be published on.